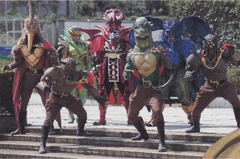 The
Crustaceans
was a group of villians created by Les Fortunes and started by one his of creations, Nukus. Unlike the
Magnavores
, ths group was serious about conquering the 3D world and getting rid of the Beetleborgs. However, the battle between them and the heroes is never finished due to the series Beetleborgs is based on ending the footage America needed to make the show.
Les Fortunes- Creator of Nukus and other crustacean creatures.
Nukus - Leader of the Crustaceans

Horribelle - 2nd in command of the Crustaceans

Vilor - 3rd in command of crustaceans
Dregs - Foot soldiers of the crustaceans
Ad blocker interference detected!
Wikia is a free-to-use site that makes money from advertising. We have a modified experience for viewers using ad blockers

Wikia is not accessible if you've made further modifications. Remove the custom ad blocker rule(s) and the page will load as expected.