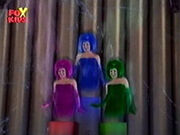 The Pipettes are three ghostly singing phantoms who all live in the Hillhurst Mansion.
Character History
Edit
A multicolor spirit-like trio of ladies who live in the pipe organ. They act as Flabber's back-up singers. They stop appearing midway through the first series, although they made one more appearance in the show's Christmas Episode.
The reason they stopped appearing is because fans didn't like them.