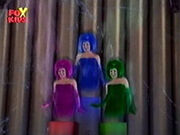 The Pipettes are three ghostly singing phantoms who all live in the Hillhurst Mansion.
Character History
Edit
A multicolor spirit-like trio of ladies who live in the pipe organ. They act as Flabber's back-up singers. They stop appearing midway through the first series, although they made one more appearance in the show's Christmas Episode.
The reason they stopped appearing is because fans didn't like them.
Ad blocker interference detected!
Wikia is a free-to-use site that makes money from advertising. We have a modified experience for viewers using ad blockers

Wikia is not accessible if you've made further modifications. Remove the custom ad blocker rule(s) and the page will load as expected.